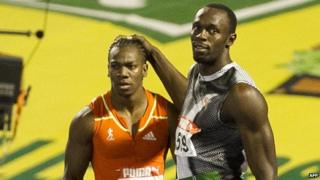 AFP
Record-breaking sprinter, Usain Bolt lost out to his team-mate at Jamaica's Olympic trials.
Yohan Blake beat the Lightning Bolt across both 100 and 200 metres.
On Sunday, Blake ran the 200m in 19.80s, bursting past Bolt in the straight to win by 0.03 of a second.
After the race, Bolt said: "I'm the Olympic champion, I have to show the world that I'm the best - so I expect to come back."
"I'll have to figure out what I did wrong and work on it," he said.
On Friday, Blake ran the 100m in 9.75 seconds, beating Bolt (9.86) by over a tenth of a second.
Bolt is tipped as the one to watch for London 2012 because of his amazing speed. He holds the 100m and 200m world records, running 100m in just 9.58 seconds, and the 200m in 19.19s.
But now people are talking - wondering whether he really is still the fastest man in the world.