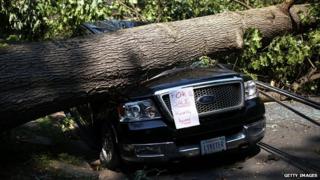 Getty Images
Storms that swept across eastern parts of America at the weekend were so damaging that four states say it's an emergency.
The storms damaged buildings, cars and power lines.
Millions of people have no electricity. There is a heatwave there at the moment and many people are struggling to keep cool as they can't power their air conditioning.
Thirteen deaths have been linked to the storms.
78 prisoners had to be taken to another site after a prison building in Dixon, Illinois was badly damaged in the storm.
The national weather service in America has warned that there could be more thunderstorms to come.