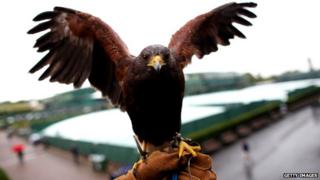 Getty Images
A hawk called Rufus, who scares away pigeons from Wimbledon, has been found after being stolen.
Rufus had been taken from a car near the All-England Club on Friday.
London's police said the hawk was handed in to an RSPCA Animal Hospital not far away.
Rufus was said to have a slightly sore leg and he'll have a few days' rest before starting work again. While he was missing, another hawk called Hector helped out.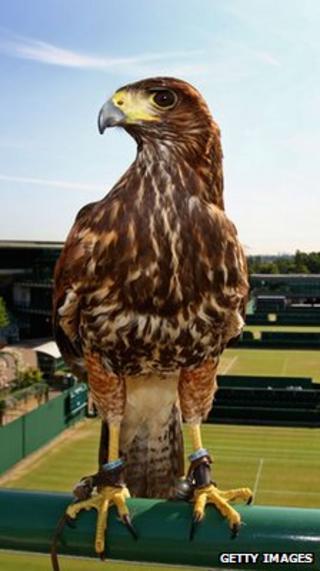 Getty Images
Rufus's owner Imogen Davis said: "We have Rufus back, safe and well," adding that she'd had loads of "lovely messages".
The four-year-old harris hawk is used to scare pigeons away from the roof of Centre Court in the mornings before crowds arrive.
If Rufus didn't do his work, the pigeons could disrupt tennis matches or start to make nests around the courts.
As soon as he starts patrolling the centre court at 5.30am, the pigeons are scared and fly away.