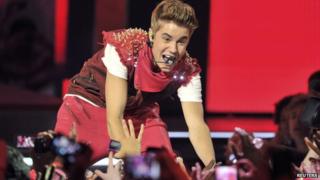 Reuters
Standby for Bieber fever in 2013 as Justin has announced gigs in cities including London, Birmingham and Manchester.
But fans in Scotland, Wales, and Northern Ireland are in for disappointment after the so-called "UK" tour will only include English gigs.
It's the first tour in the UK since 2010 for the Believe star.
In 2013 he'll visit Birmingham, Sheffield, Manchester, Liverpool, Nottingham and London.
Box offices are expected to get busy on Friday when tickets go on sale.
We asked you how you felt about Justin's tour announcement. Will you be rushing to buy a ticket?
How do you feel if you live in Scotland, Wales or Northern Ireland? Would your parent or guardian take you hundreds of miles to one of his gigs?
Your comments
"I think it is okay because he has got a lot on his hands at the moment when he is only 18-years-old. I will just have to watch the concerts on TV!"
Hannah, Wales
"I can't believe he's only touring in England what's the point in calling it a UK tour!"
Megan, Falkirk, Scotland
"It's sad that Justin left out some parts of the UK."
Harbir, Slough, England
"This is so unfair, England gets everything, nobody remembers that without Scotland, Wales and NI there would be no Great Britain so Bieber should remember that most of his fans probably come from Scotland, Wales and NI!"
Niamh, Glasgow, Scotland
"I think it's quite mean to leave out Scotland, Wales and N. Ireland, they are just as important as England!"
Harriet, Devon, England
"That's not fair for people who are Bieber's biggest fans and live in Northern Ireland, Wales and Scotland. What if their mum or dad cannot drive? What a let-down for all those people!"
Delyth, Wales
"I'm really Upset that Justin isn't coming to Scotland! Considering he's only going to England I probably won't be able to go."
Molly, Scotland
"Why leave out all of the countries except England? Technically it is the England tour not the UK."
Emi, Manchester, England
"My parents will never let me go to England but don't worry I still have Bieber fever!"
Ellie, Falkirk, Scotland
"I will literally rush to buy a ticket and I will get someone to drive me as far as I have to go to see one of Justin Bieber's gigs."
Sana, Wales