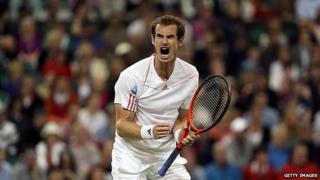 Getty Images
In one of Wimbledon's best ever third round battles, Andy Murray won against Marcos Baghdatis in four sets.
The match got exciting on Saturday evening with the centre court roof closed and the lights on.
Officials said play could continue until 11pm, but with six minutes to go the match didn't look like it would be finished.
But then Murray powered through the last three games of the fourth set to win the match 7-5, 3-6, 7-5, 6-1.
Murray will now take on Croatian Marin Cilic in the fourth round on Monday.
Cilic himself had an epic encounter on Saturday - he took part in the second-longest match in Wimbledon history.
He took five hours and 31 minutes to beat America's Sam Querrey, with a score of 17-15 in the fifth set.
Murray has played Cilic six times and has beaten the Croatian in five of those matches.