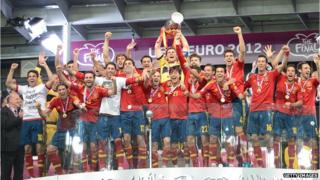 Getty Images
Spain made football history by achieving their third international title in a row, beating Italy 4-0 to win Euro 2012.
Goals from Silva, Alba, Torres and Mata sealed Spain's victory against an Italy side who just couldn't match them.
Many now say it makes Spain the greatest football team in the world, ever!
To complete the success, Fernando Torres got the Golden Boot for scoring the most goals at Euro 2012.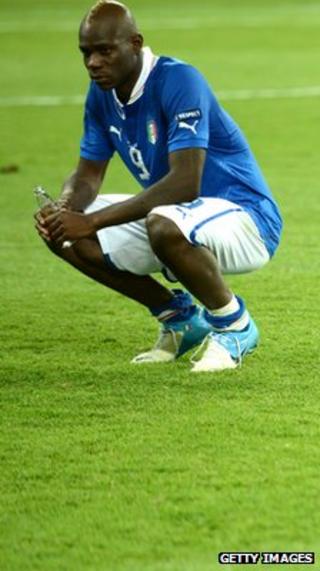 Getty Images
Italy were devastated at their loss, and star striker Mario Balotelli left the pitch in an angry outburst.
Spain's 4-0 victory was the biggest ever win in a Euros final, with their style of football also a winner.
Their passing game between midfielders, without a striker, had been criticised by Arsenal's manager Arsene Wenger as "boring".
But their technique has now given them three international victories - Euro 2008, World Cup 2010, and now Euro 2012.
Torres' immediate impact
Spain dominated the first half in front of goal even though Italy had large amounts of possession. By half time Spain were two goals up.
But in the second half Italy had the agony of going down to 10 men after third substitute Motta went off injured - only 10 minutes after he came on.
In the 75th minute Torres was brought on to replace Fabregas, and he had an immediate impact.
He steered home Spain's third goal and then gave an assist for his Chelsea team-mate Mata.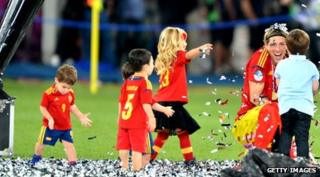 Getty Images