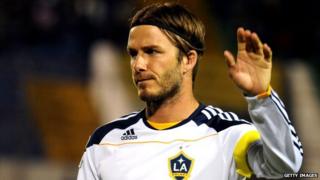 Getty Images
Everton midfielder Jack Rodwell says he wanted David Beckham in Team GB's football squad for the Olympics.
Beckham was left out of the 18-man squad by manager Stuart Pearce.
Rodwell said: "Everyone in the squad would learn from David Beckham. He is a legend. I think everyone is a bit surprised but the manager obviously has his reasons."
Rodwell isn't the only player to speak out. Former Wales midfielder Robbie Savage has criticised the decision too.
Savage said, "It's appalling. He helped Great Britain get the Olympics.
"He deserves more respect - he's been a fantastic ambassador for British football and has put the name of Britain across the world.
"With David Beckham in the Olympic squad, they would have had more of a chance."
But former England midfielder Peter Reid agrees with Pearce's selection: "From a pure football point of view, I tend to agree with the manager. David is playing in the MLS, which isn't the highest level of football.
"Ryan Giggs has more class on the football pitch than David Beckham, in my opinion."
Becks was part of the Olympic flame handover ceremony back in May when he brought it to Britain for the torch relay.
He also helped Lord Coe's bid team win the Olympics for London, back in 2005.