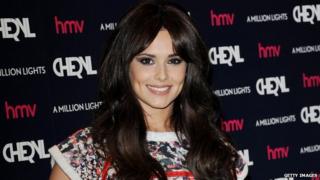 Getty Images
Cheryl Cole says she feared for her life when she got trapped in her private jet during a lightning storm.
The singer was at Frankfurt airport in Germany during her A Million Lights tour when lightning struck the runway.
Her plane wasn't allowed to take off, and no one was allowed to leave the aircraft because it was too dangerous.
She said, "We were stuck in the plane and just sitting on the runway and a bright massive flash of light hit outside the aircraft."
"I said to my friend, 'That's lightning' - then it just didn't stop."
"I was so scared that I thought, 'This is it. I've got an album to promote and I've got so much yet to do!'"
But she said thinking about her charity mountain climb for Comic Relief in 2009 helped her focus.
"I remembered I'd climbed Kilimanjaro, so took a bit of strength from that."
"When we finally took off about an hour later I was terrified we'd be hit by lightning in the air."
But luckily for Cheryl she didn't need a 'Parachute' after all...