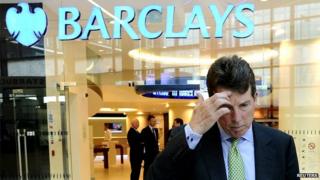 Reuters
Barclays bank has been fined a massive £290million after its staff lied to make their own money.
Boss Bob Diamond said he would not resign from his job even though the Prime Minister says there "serious questions" to answer.
Barclays traders were said to have lied about how they and other banks loaned money to each other from 2005 to 2009.
The news comes as several banks are being investigated for possibly breaking the law.
Profits
Mr Diamond said that Barclays is now reviewing what its staff did, and that some staff might have their pay cut or even leave their jobs.
Investigators say that Barclays' traders lied, to make the bank look more impressive, during the money crisis over the past few years.
The investigations also reveal the Barclays staff worked with traders at other banks to make profits for themselves.
Barclays Bank said it was aware of what had happened and that it was "well short of standards".