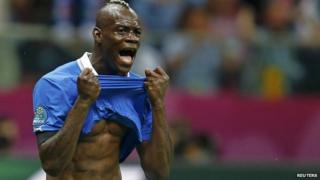 Reuters
Italy's Mario Balotelli became the hero of his nation with two goals that sank Germany's youthful team.
The 2-1 victory powered Italy into the Euro 2012 finals and saw Germany out of the competiton, against all expectations.
It means the Euro 2012 final on Sunday 1 July will feature Spain and Italy.
Germany clawed back a late goal with an injury time penalty but it was too little, too late for a team that usually dazzles its opponents.