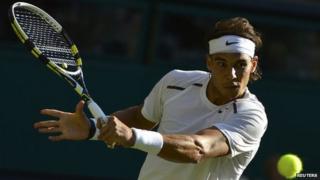 Reuters
One of the favourites to win Wimbledon has been knocked out in the second round.
Rafael Nadal is ranked the second best tennis player in the world but lost to Czech player Lukas Rosol in five sets.
Rosol's powerful serve was one of the reasons he beat Nadal - some of them were 99 mph.
Even Rosol didn't think he would win saying "I'm not just surprised; it's like a miracle for me."