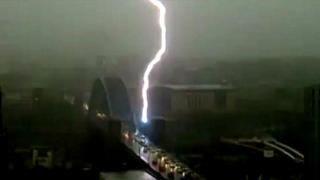 Floods and freak weather
Freak storms, hail stones as big as golf balls, and major floods brought villages, towns and cities to a standstill.
Some schools were washed out with floodwater, and the famous Tyne Bridge in Newcastle was struck by lightning.
In Shropshire one man died after being swept away by water from a flooded stream.
A London to Glasgow train took over 15 hours, instead of the normal four, after being delayed by landslides and floods.