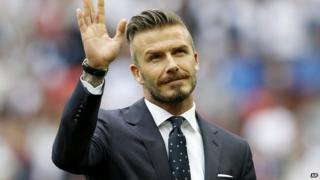 AP
Football hero David Beckham says he has failed to make it into the British Olympic football squad.
The former England captain wasn't on the final 18-man list.
The Olympics football team is made up of mainly younger players, although three players over 23 are allowed to compete.
But David isn't one of them. In a statement, he said: "I would have been honoured to have been part of this unique Team GB squad."
He added: "Everyone knows how much playing for my country has always meant to me."
Disappointed
Beckham said: "Naturally I am very disappointed, but there will be no bigger supporter of the team than me. And like everyone, I will be hoping they can win the gold."
It's not yet been officially announced who is on the final list.