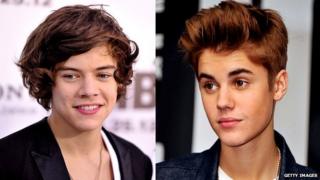 Getty Images
Justin Bieber has banned Harry Styles from meeting his mum. Why? Because he is worried he might try to ask her on a date!
Justin and Harry have become good friends but now reports say Bieber reckons his mum is so good-looking Harry might try to date her.
Particularly because he fancies women that are older than him.
Selena Gomez, Justin's girlfriend, told a newspaper: "Both me and Justin still have really hot moms."
"Justin was like, 'Harry might have become one of my best buddies, but with his record we need to keep him away from our moms.'"
Yikes! Watch out Mrs Bieber - you have been warned!