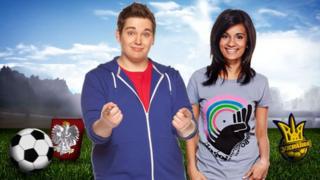 Our friends at CBBC have got an extra-special treat for the Euro 2012 Final on Sunday 1st July.
Sonali, Chris, Joel and Michael will be doing a special CBBC live commentary during the match.
They want you to head to the CBBC messageboards and let them know where you're watching the match and which team you'll be cheering on.
Send them an email and there's a chance they'll feature some of them on the day and phone up a few young fans.
There's loads of extra stuff like quizzes, facts and phone-ins on the night - and other favourite CBBC stars will be phoning in for a chat.
When the final kicks off, press the red button on BBC One and select CBBC Commentary.