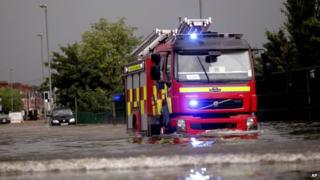 AP
Unexpected heavy rain hit Northern Ireland on Wednesday night causing flooding chaos and leaving homes without power.
Only a day earlier, crowds were lining the streets to welcome the Queen. Now some of the same streets are flooded.
Heavy rain on Wednesday night flooded parts of the country, with people having to abandon their cars.
About 1,000 homes in Belfast had no electricity overnight and fire service staff received calls every 20 seconds.