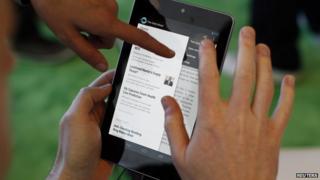 Reuters
Google has unveiled the Nexus 7, a rival to Apple's iPad, Amazon's Kindle Fire, and Samsung's Galaxy Tab - along with its augmented reality glasses.
The gadgets were revealed at a conference in the US city of San Francisco.
The Nexus 7 will go on sale in America in July, costing about £130.
The internet-connected augmented reality glasses will be available in 2013, said the internet giant.
Read more about Google's glasses here.
The launch of the Nexus 7 has made the market for tablets even more crowded - with several models all competing for customers.
The Nexus 7 has a smaller screen than the iPad, but it's similar to the Amazon Kindle Fire and the Samsung Galaxy Tab 2.
Microsoft's own tablet, the Surface, is also a competitor.
Google used the conference to reveal another surprise new product, the Nexus Q, a spherical device which connects to TVs and hi-fi systems.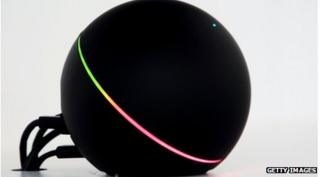 Getty Images
It's amazing to think that as little as two years ago hardly anyone was using tablet devices.