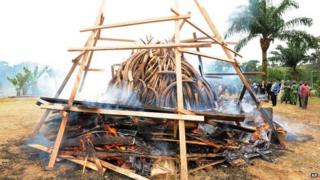 AP
Thousands of elephants' tusks and ivory ornaments have been set alight in the central African country Gabon.
The President of Gabon, Ali Bongo, set fire to about £8million of illegal ivory, to show his country's commitment to stopping the illegal ivory trade.
Nearly 1,300 tusks and over 17,000 ivory items were burned - which would have meant the deaths of 850 elephants.
Although it's against the law to sell elephants' tusks and rhino horns, many animals are still being killed.
"We don't want our children to inherit an empty forest. For that reason, we cannot allow this trafficking [illegal smuggling] to continue," said President Bongo.