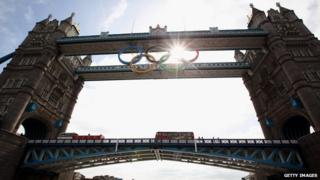 Getty Images
After seven years of preparations, it's the final month of finishing touches for the Olympics and Paralympics.
The main Olympic Park is finished and top organising chief Lord Coe says everything will be ready for the start of the Games on 27 July.
We asked what you're looking forward to about London 2012.
If you're not sporty are you still interested? Do the games make you want to do more sport? Which events or athletes most excite you?
Your Comments:
"I'm very excited about the Olympics because me and my family are going to see six events! I have met a couple of the athletes, as they're training at the university of Bath! Dai Greene also came to my school!"
Amy, Bath, England
"I don't know anybody in London who's looking forward to it. It's pretty much going to ruin our summer holidays, especially for those who live around the 'hot spots', not to mention how hard it's going to be for the adults when they attempt to go to work."
Megan, London, England
"I'm so excited. One of my friends is going to see the athletics. My favourite part of the Olympics is the water sports. I'd give almost anything to see that."
Molly, Cornwall, England
"I'm really looking forward to the Olympics because they start on my birthday!! And all this week at my school it's Olympic week. It's non-uniform and we got to have our picture with the actual Olympic torch!!"
Tania, Coventry, England
"I'm really excited about the Olympics and I like the design of the Olympic Torch."
Cara, Stirling, Scotland
"I'm not really at all bothered/interested with the Olympics. But I'm sure we'll do fine."
James, Basingstoke
"Yes I am. Tomorrow we are having an Olympic themed sports day and we are competing in country teams. I am in Russia and each team will have a chance to walk with a pretend Olympic Torch!"
Aimee, England
"I'm really excited because it's in our country and I normally hate the Olympics!"
Laz, Swansea, Wales
"I don't see why the Olympics are so important, to me it's just another sports event. Although I do like the mascots and some of the merchandise."
Poppy, Pembrokeshire, Wales
"I'm looking forward to the Olympics because it is coming to my country and I have got 7 tickets for all my family!"
Ayesha, Leeds, England
"I can't wait until the Olympics start. I am going with my sister and parents to see the Gymnastics-artistic at the North Greenwich Arena. I'm not very sporty but I think the Olympics are incredible. And the London Olympics will be no different to any other."
Heather, Dorset, England
"Oh you bet I am, but it's a month away, I can't wait."
William, West Sussex, England
"I'm very excited to see who wins."
Chloe, Gloucester, England
"I know that many people are excited about the Olympics, but to be honest, I am not really that bothered."
Laura, Hertfordshire, England
"I have only recently become interested in the Olympics, but I'm really excited about it!"
Matthies, Northumberland, England
"I hate sports but always get excited for the Olympics. It happens to me all the time, I hate sports but when a major event like the World Cup comes around I get all excited and don't stop watching."
Jordan, Annalong, Northern Ireland
"I know it's exciting it's coming to our country, but I couldn't care less about the Olympics. No offence to the people that are taking part."
Sophie, Huddersfield, England