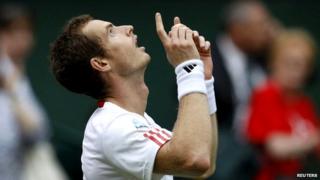 Reuters
Andy Murray won his first match at Wimbledon 2012 in just over an hour and a half.
Starting his seventh Wimbledon he beat Russian player Nikolay Davydenko in three straight sets.
Murray pointed to the sky to celebrate his win and the crowd at Centre Court clapped and stood up to show their support.
After winning the match he said: "It's never easy playing in the first round at Wimbledon, but it was a good start."