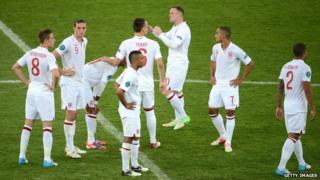 Getty Images
It seems the England football team can't ever win when it comes to penalties.
It's been a familiar tale for England on the big stage for over 20 years and six tournaments.
They were spot-kicked out of the 1990 World Cup by Germany, Euro 96 by Germany again, World Cup 1998 by Argentina, Euro 2004 by Portugal, and World Cup 2006 by Portugal again.
We wanted to know - what can England do to win a penalty shoot-out?
Do the lads give as much as they can or do they deserve to lose? And are you proud of them?
This is what you thought.
Your comments:
"They are all capable of scoring a penalty, they just have to try and block out all the people watching as it puts a lot of pressure on them."
Olivia, Salford, England
"I think they did well making sure Italy did not score until penalties."
Mary, Essex, England
"I think that they need to change the order so the least experienced players go first so they don't bottle it when it is tight. So put people like Steven Gerrard when it is tighter and Ashley Young at the beginning so he can perform at his best, not under pressure."
Amy, Harrow, England
"Wayne should had gone first because he is the best goal scorer."
Gwyn, Manchester, England
"When England take penalties it's not about the actual shot kick, it's about the mental strength they are lacking. England need to believe they can do it and forget about the past penalties. That's history. When I was watching, it seemed Joe Hart was the only one going around with a bit of confidence, Stevie G was as cool and collective as normal. The rest looked scared out of their guts. COME ON ENGLAND, HAVE A BIT OF FAITH!!!"
Sarah, Crawley, England
"Never give up, keep on trying and one day you'll get there. You make us proud."
Peter, Bury, England
"I think if they didn't get paid unless they won, it would make them try harder, and we need to bring in some different and younger players."
Aimee, England
"Aim at the part of the net you are shooting at. Try your best and start doing penalties in training!"
Sarah, Manchester, England
"I think England did well. However practising penalties during training could improve their skills."
Magesha, London, England
"England need to try to avoid penalties as much as they can but if not then train up other players to be good like Stevie G and Wazza."
William, West Sussex, England
"England are a great team and at least they tried."
Bob, Africa
"The defence held out brilliantly. There seemed to be no drive forward from the second half. Rooney only seemed to keep losing the ball, he should have been substituted. We needed to attack more (best means of defence IS attack). Well done for trying."
Jill, Bournemouth, England
"England should start to take penalties in training."
Lee, Bristol, England
"I think that England should have been a bit more careful. Last night was dreadful to watch. Although they didn't win it was nice see them play against their friends. Well done England!"
Emily, London, England
"Steven Gerrard should have said to the team 'point to the left and you actually go to the right.'"
Kathryn, Kent, England
"I think that they should choose the good people like Steven Gerrard, Wayne Rooney and John Terry, the main goal scorers."
Sofia, London, England
"The goalie needs to put off the player taking the penalty by making a funny face or coughing on purpose."
Carly, Dorset, England
"Joe Hart needs to watch the ball, a bit like I do when I'm in goal. England did good to get that far, we are very proud of you."
Aaron, West Sussex, England