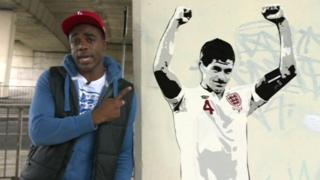 MOTDK's Euro 2012 rap
With rapper Doc Brown appearing on Match of the Day Kickabout, there's only one way the team could celebrate - by making their own rap!
In the middle of the big footy tournament of the summer, Ore has 'put down a track' to support Steven Gerrard and the rest of the England team in Euro 2012.
There's even a special guest appearance by a certain Newsround presenter - who lends her singing talents!
Check out the Kickabout track 'Euro 2012 (Come on Gerrard bring it home)' right here! Who knows, they might have a hit on their hands… or maybe not. Check out Match of the Day Kickabout every Saturday at 7:40am on the CBBC Channel and 11:40am on CBBC on BBC Two.