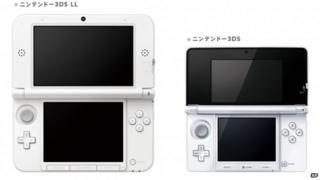 AP
A new version of the Nintendo 3DS with bigger screens is being launched.
The 3DS XL, called 3DS LL in Japan, has screens almost twice the size of the 3DS.
They're 124mm and 106mm across, compared to 90 mm and 77 mm on the current model.
It'll go on sale in Europe on 28 July, although European prices have yet to be announced. In Japan it's set to cost around £150.
The updated handheld games console also boasts a longer battery life.
About 17 million 3DS devices have been sold since its release in 2011, although Nintendo is facing growing competition from smartphones, iPads and PlayStation Vita.