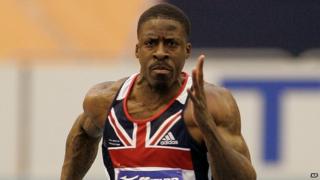 AP
Dwain Chambers is among the athletes competing for London 2012 qualification at this weekend's UK trials in Birmingham.
He's aiming to return to the Olympics after overturning a lifetime ban in April because of a positive drugs test.
Chambers will need to finish in the top two AND to run the Olympic "A standard" to guarantee automatic selection for the 100 metres.
But the sprinter has so far failed to hit the 10.18 seconds that he needs.
If Chambers doesn't do it this weekend, he'll still have until 1 July to run a qualifying time.
People in the sporting world have been divided over whether former drugs cheats should be allowed to compete in the Olympics.
Organisers say this weekend's event is the biggest trials in British athletics history.
Heptathlete Jessica Ennis and distance runner Mo Farah will also be competing, although they've already qualified for their main events.