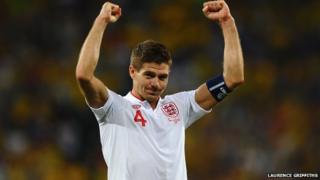 Laurence Griffiths
England's players have been ordered to do extra penalty practice to make sure they don't get knocked out of Euro 2012 on spot-kicks.
The Three Lions have a woeful record when it comes to shoot-outs, losing five out six in major tournaments.
And with a quarter final against Italy on Sunday manager Roy Hodgson is making them stay after training.
He said: "We have sessions to practise and we'll obviously take that even more seriously now."
Steven Gerrard is England's first choice penalty taker but if their next match does go to penalties they'd need at least four other players to step up.
Wayne Rooney, Ashley Young and Ashley Cole, who scored in Chelsea's Champions League shoot-out win against Bayern Munich, are all contenders.
And squad players James Milner, Leighton Baines and Jermain Defoe all take spot-kicks for their clubs.
England lost the World Cup semi-final to Germany on penalties in 1990 and were knocked out by them at the same stage of Euro '96. They've also lost shoot-outs to Argentina in 1998 and Portugal twice in 2004 and 2006.
Italy won the World Cup on penalties in 2006 but have almost as bad a record as England. They've been knocked out of five other tournaments from 12 yards.
England boss Hodgson says he wants his team to forget about the past but admitted it's hard to recreate the tension of spot-kicks in training.
"You can practice penalty shoot-outs until the cows come home", he said.
"But it's really your composure, your confidence, your ability to really block everything out and forget the occasion that means you score or you don't score.