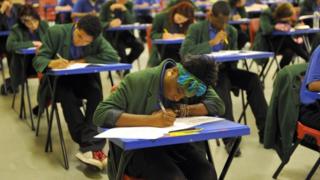 GCSE exams could be scrapped in favour of much tougher tests , the government says.
The exams are currently done by children aged 14 to 16, across England and Wales, but they've been criticised for being too easy and out of date.
Education Secretary Michael Gove is preparing to replace them with harder, one-off tests, cutting down on course work and module testing.
The new system could be brought in by autumn 2014.
That would mean pupils starting their GCSE courses in September 2013 could be the last to take them.
A "more straightforward", test option would also be available to pupils who struggle academically.
Under the plans the national curriculum at secondary level would also be scrapped altogether, leaving head teachers to decide what children learn.
Critics of the existing system point to rises in the numbers of pupils achieving top grades every year as a sign that they have become easier. But supporters say teenagers are working harder than ever and teachers are getting better at preparing them for exams.
The Education Minister of Wales, Leighton Andrews, says they will not be following the same plans as England. Scotland already has a different exam system.