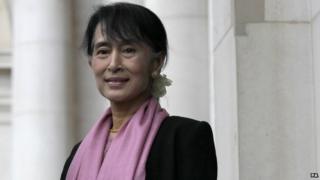 PA
She's not a popstar or an international athlete, but Aung San Suu Kyi is one of the most popular people on the planet right now.
She's been voted one of the most inspirational women in the world and is leader of the opposition party in Burma.
At the moment she's visiting the UK, meeting with the Prime Minister and members of the royal family.
But what's so amazing about her story? Here's Newsround's 'Top 5' facts about Aung San Suu Kyi...
5) Daughter of a Hero
Aung San Suu Kyi's father, General Aung San, was a national hero.
He was the main man behind securing Burma's independence from British rule in 1947, but was killed when his daughter was just two-years-old.
4) Returned to Burma
In 1988, after studying at Oxford University in England Aung San Suu Kyi went back to Burma to look after her mother who was very sick.
The country was in turmoil, with thousands of people taking to the streets because they wanted a fairly elected government, rather than the army run government that was in charge.
Ms Suu Kyi agreed with the people and led the revolt against the then-leader, General Ne Win, with a series of peaceful protests.
3) Won the election
Ms Suu Kyi and her party won the 1990 election despite her being disqualified and put under house arrest by the military government.
She remained under house arrest, which meant not being able to leave her home, for almost 20 years.
During that time she wasn't allowed to see her two sons, or her British husband, who died in 1999.
2) Her release
She was finally released from house arrest in November 2010.
This meant she was able to leave the country for the first time in 24 years knowing Burma's new leaders would allow her to return.
1) Getting in to Parliament
Aung San Suu Kyi stood for parliament for the first time in April 2012.
Her party won lots of seats at the elections and Ms Suu Kyi was formally elected leader of the opposition.