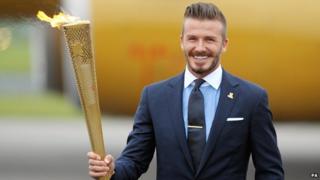 PA
The Olympic torch held by David Beckham on the day the flame arrived in Britain is going on sale.
The torch is among 20 others that will be sold to help raise money to pay for the Games.
Winning bids for Beckham's torch will also receive a 'metallic shard' signed by the former England captain.
But the London Olympic Organising Committee have been criticised for selling what is supposed to be "a unique piece of history".
Logoc have defended their sale, saying they each cost £495 to make and they need some of that money back.
Thousands of torches were made for the 8000-mile relay around the country.
Most of the Olympic torch bearers have been ask to pay £258 if they want to keep their torches.
But some bearers are buying them and then selling them on the internet for profit or for charity.