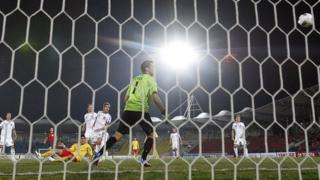 AP
The boss of Fifa, Sepp Blatter, says goal-line technology is a 'necessity'.
Blatter made the statement on Twitter after England's 1-0 win against Ukraine.
The Euro 2012 co-hosts were denied an equaliser in the game when officials failed to spot Marco Devic's shot had crossed the line.
Blatter must now persuade the International Football Association Board to give technology the go-ahead.
But that may be difficult as there are still a lot of people against introducing it to the game.
The president of Uefa, Michel Platini, thinks that having additional officials behind each goal is better than goal-line technology.
Yet during England's match with Ukraine, the referee, assistant referees and goal-line officials all failed to spot Devic's shot had crossed the line before John Terry cleared it.
Platini said: "The problem is you'll need technology for deciding handballs and then for offside decisions and so on. It'll never stop. That's the problem I have."