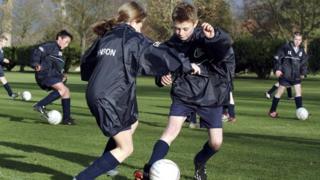 A primary school has banned kids from break-time football because teachers say it's making them behave badly.
Children at Hall Road Primary in Hull have been told that there'll be no ball games in the playground until they behave better.
Teachers say playing football gets kids so worked up that they're putting in dangerous tackles and getting into fights in class.
Deputy head teacher Kristina Frary said the ban was needed to prevent injuries.
She said: "We've had fall-outs and they were all centred around football.
"It was causing problems. Come the end of break-time, children were still upset and it was spilling into their lessons."
Hoops, chess boards and skipping ropes have been provided for the children to play with instead.