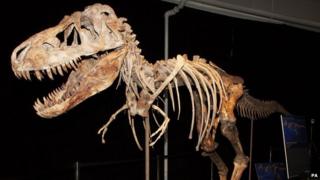 PA
A stolen dinosaur skeleton that was smuggled into America is heading back home to the Gobi desert.
The Tyrannosaurus bataar ended up in the U.S and was sold at auction, but now Mongolia want it back.
Officials aren't sure yet exactly how the seven metre long fossil ended up so far away from home.
According to dino experts it's about 70 million years old and this species has only ever been found in Mongolia.
Laws in the country mean dinosaurs are owned by the government and it's illegal for them to leave to country.
US police have agreed capture the lost dinosaur and send it on the long journey back home.