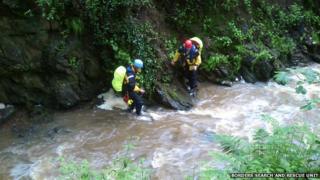 Borders Search and Rescue Unit
A pet dog may have helped save his owner's life by keeping him warm after he fell down a gully.
The 73-year-old man's fall was fortunately stopped by a fence, meaning he didn't hit the water below.
His terrier stayed by his side and rescuers think the mutt's warmth could have helped to keep him alive.
The pensioner went missing in Coldingham in the Scottish Borders on Friday and was found two days later by a farmer.
Rescuers searching for him had started to fear the worst because of days of heavy rain and the fact he'd been missing for 48 hours.
He was found "still alive but only just" and taken to hospital where he is recovering.
Seymour Haugh from Borders Search and Rescue Unit said: "We have seen previous cases where the close proximity of a casualty's dog has helped to maintain body temperature, and this may well hold true in this instance."