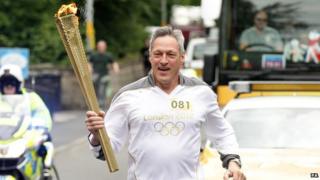 PA
Children today are lazy and need a "kick up the backside" to get them doing more sport, says the ex-Olympic sprint champion Allan Wells.
The Scotsman won gold in the 100 metres at the 1980 Olympics in Moscow.
He said: "I think people live in the comfort zone too much."
"It's a problem that sport is competing with so many social things. But when they see an Olympic gold medal in London it might make them sit up and think it's worth a go."
Mr Wells made the comments while acting as a torch bearer for the London 2012 torch relay.
"In some ways these Olympics gives youngsters a chance - it can be a catalyst for them."
"It would be stupid to miss the opportunity. It's about giving them assistance - you could call it a kick up the backside."