The Duke of Cambridge has spoken out against rhino and elephant poaching, calling those who do it "ignorant, selfish and wrong".
He gave the BBC a rare interview as he showed his support for a UK project sending three captive black rhinos to the wild in Tanzania, east Africa.
Prince William wants poaching to stop: "It's a message about educating people and understanding that when you buy that rhino horn or when you buy ivory you are taking this from an animal that has been slaughtered."
"Is that really what you desire and you think is right in the world?"
Even though it's illegal, rhino horns can be sold for loads of money in east Asia, where some people believe it works as a medicine.
That's led to many rhinos being killed for their horns in Africa.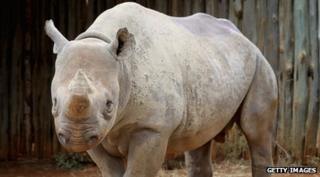 Getty Images
The Aspinall Foundation is relocating three black rhino brought up in Kent, with the hope they'll breed and help boost the rhino population in Tanzania.
The Duke of Cambridge is royal patron of charity the Tusk Trust, which works to protect wildlife such as rhinos.
He said: "If we don't something about them, it's going to be a tragic loss for everyone."