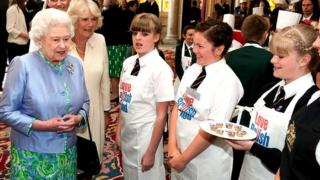 Cook for the Queen
Could you could cook a meal fit for the Queen?
Well that was the challenge put to schoolkids across the UK.
Two hundred schools entered the competition to help Her Majesty celebrate her official birthday on Saturday, but only four got the chance.
Leah was invited to Buckingham Palace for the final; the first time school kids have been allowed in the Palace kitchen.
But did the menu get the party started or was it a right royal flop? Watch Lean's report to find out.