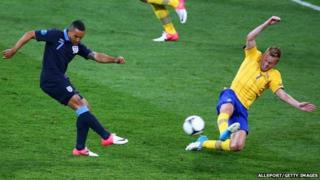 Allsport/getty images
It was a nervous night for England fans, who saw their team come from behind to beat Sweden 3-2.
Andy Carroll's first-half header gave England an early lead, but poor defence allowed Sweden two goals after the break.
Then manager Roy Hodgson brought on sub Theo Walcott, who equalised things and set up Danny Welbeck's winning goal.
England now just need to draw against Ukraine in their last group game to reach the quarter finals.
After the game, Hodgson praised Walcott's work: "Theo's contribution was enormous."
"To come on as a sub and score such a good goal and set up a winner, he's got to be very pleased."