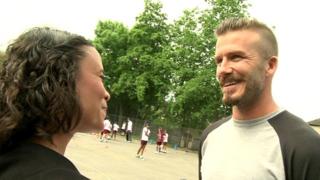 David Beckham - I'm a strict dad
David Beckham has revealed that he's a strict dad and makes his children earn their pocket money!
The superstar says his kids have to do their chores, like load the dishwasher and make their bed.
But he DOES let them stay up late and watch the football!
It turns out that Becks is a whizz in the kitchen as well as on the pitch - his children love his bolognese, which he learnt to cook when he lived in Italy.
Watch his full interview with Leah now to find out what he'd like for Father's Day!