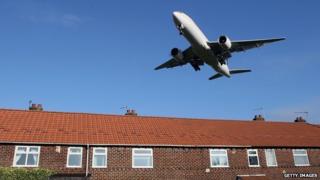 Getty Images
A group of schools and residents near Manchester airport have been given compensation for 'noise pollution'.
Six schools received £1,300 each along with 600 house owners who got £1,500 each.
Manchester Airport bosses gave out what they called the "goodwill payment" after admitting noise from the aircraft was disruptive.
It made us wonder - where is Britain's noisiest place? We want to find it!
Maybe the regular noise of a factory, trains, or a main road disrupts your home life. Loud seagulls next to school? Elephants in the back garden?
You told us about the places near YOU which could be the noisiest place in Britain!
Your comments:
"Even though I live in Staffordshire I have been to London and it's really noisy there especially in the underground!!"
Amy, Staffordshire, England
"The nosiest place in Yorkshire is our local funfair."
Alayna, Sana and Saniyah, Yorkshire, England
"I think it is the Emirates stadium because it has lots noisy fans!"
Bilal, Derby, England
"I think that Milton Keynes is the noisiest place because there are seabirds, tourists, kids, babies and adults. There isn't a millisecond of silence."
Leah, Bolton, England
"The fairground because all of the children are noisy as well as the rides creaking. There is also loud booming music. "
Callum, Milton Keynes, England
"In Luton last year there were builders knocking down a huge concrete footbridge which took them 6 months to do. This coupled with being in the town centre which is pretty noisy and being next to the airport and train station."
Ryan, Bedfordshire, England
"I live right next to the airport and the runway is on my road. My house shakes when planes take off! Also when an extremely noisy plane takes off my baby brother wakes up."
Hannan, Cheshire, England
"London is because there are millions of people, traffic, trains, bus and markets."
Lesedi, England
"I think it is Manchester airport because I've been there before and it's really noisy and busy."
Ellie, Normanton, England
"I live near Birmingham airport and every day at 4.00am a plane comes past shaking the whole house."
Ridwan, Birmingham, England
"I've just been to London and I think London is noisiest. It has lots of transportation!!!"
Clara, Seoul, Korea
"I think the noisiest place in Britain is Dover, because there are all the ferries using their horns at other boats."
Oli, Fareham, England
"Probably Belfast, there are boats and cars and loads of planes."
Tiernan, County Down, Northern Ireland
"Eyemouth, because of the waves. I couldn't get to sleep once because of the sound of the waves crashing onto the walls and I slept on a hill in a caravan park."
Lucy, Paisley, Scotland
"I think the noisiest place is Manchester airport because when I went to drop my mum off I saw lots of planes landing and they made lots of noise."
Fiza, Manchester, England
"Where I live is on the M25, so I can often hear a low buzzing sound. We also have a train station nearby, which often means, due to the large number of trains pulling into the station daily, loud hoots and clatters are a regular sound."
Emily, Hertfordshire, England
"Aston Villa football stadium because of the fans."
John, Birmingham, England
"I believe the noisiest place has to be the Bull Ring shopping centre, as lots of cars and lorries go past."
Mehnaz, Birmingham, England
"We live in Brighton and there are forever seagulls waking us up in the morning. We also go to school next to a building site and it is really annoying and distracts us when doing lessons."
Megan and Kasey, Brighton, England
"I think that London is the noisiest place in Britain. It is the main and biggest city in our nation. Also this year it's attracting a lot of tourists as the Olympics are on!
Alice, Belfast, Northern Ireland
"We live in Birmingham and at Christmas the noisiest place is the German market."
Anya and Priya, Birmingham, England
"I think the noisiest place in Britain are the airports, because when I go on holiday I can't hear myself think because it is so noisy."
Aimeet, Clacton-on-Sea, England
"I think Feltham, London, is the noisiest 'cos they are right next to Heathrow Airport. Imagine trying to get some sleep at night!"
Sara, Feltham, England
"I live in Northern Ireland and I have only been to London once but I think London - in the busiest places like Heathrow and Gatwick."
Hannah, Eniskillen, Northern Ireland
"The white cliffs of Dover because there are ferries and seagulls there."
Katie, Cumbernauld, Scotlan