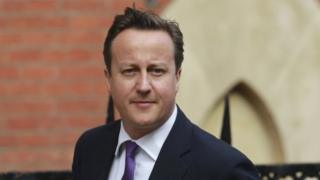 Reuters
Prime Minister David Cameron is facing tough questions over his friendships with newspaper bosses.
He's appearing in front of the Leveson Inquiry, which is investigating how journalists find their news stories.
The PM said communication between politicians and the press had gone "bad".
He said: "A lot of politicians think the press always get it wrong" and the press think politicians "are just out for themselves".
The Leveson Inquiry was launched following the phone-hacking scandal, when the News of the World newspaper was accused of listening in to people's private voicemail messages.
"LOL" texts
Mr Cameron is friends with former newspaper boss Rebekah Brooks. After the phone-hacking scandal, she quit her job as head of News International, the company that owned the News of the World.
She revealed last month that Mr Cameron used to text her "LOL" thinking it stood for "lots of love"!
It's normally used to mean "laugh out loud".
The PM also hired ex-News of the World editor Andy Coulson to work for him.
Coulson has since been arrested as part of another police investigation.
Lord Leveson, in charge of the inquiry, wants to find out how cosy Mr Cameron got with his newspaper mates.
Newspapers have a lot of power because they can influence how people think and who to vote for.
There are worries that if politicians get too close to journalists, then they might do what the newspapers want, instead of what's good for the public.
But Mr Cameron has said it's "nonsense" that he's made any such kind of agreement.