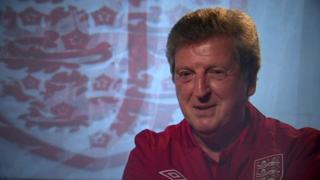 Hodgson - We've missed Rooney
England manager Roy Hodgson says his players need to go all out for a win against Sweden on Friday.
His side drew 1-1 against France on Monday in their opening Euro 2012 group game.
Hodgson said of his first time leading his country: "The game was so intense, there weren't many moments where you felt you could relax."
"I really enjoyed the game, I enjoyed the way that the players went about their work."
He's admitted that England have suffered without Wayne Rooney, who's banned for one more match: "We have missed him, no question."
"He is a world-class player and when we get him on the field we'll be a much stronger and more potent attacking force than when he's not playing."
Hodgson added that he does know his line-up for Sweden but he hasn't told the squad yet.
There's been much talk about how England's training base is in Krakow in Poland - hundreds of miles from their games in co-hosting country Ukraine.
It wasn't his decision, but Hodgson said he wouldn't change things anyway: "We're quite happy here. I think the Ukraine would not have been an easy place."
"That heat every day would have taken its toll I think."
"But more importantly I think it's quite nice to change the atmosphere. Here in Krakow the players seem to be enjoying the hotel. They enjoy the training field and the training stadium."
"They aren't prisoners and they can have a quick walk around the town."