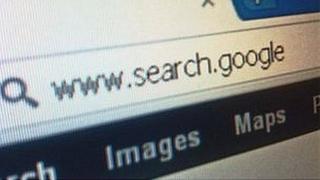 Website addresses that end with ".com" or ".co.uk" could soon become a thing of the past.
Details have been revealed of the 1,930 requests for new top-level domain names - that's the word after the dot.
The expansion is being run by the organisation Icann and gives companies the chance to run a domain in their own name.
A popular one is ".music" - with eight different parties fighting to run it, including Google and Amazon.
Google has asked for a total of 101 names, including ".google", ".boo" and ".dad"!
That means the internet giant could have a website called www.search.google, or even www.ilove.dad!
.kids
Other requests include ".kids", ".school" and ".game".
The BBC has asked for ".bbc" and there have also been bids for ".scot" and ".wales".
It comes at a cost though - there was a £118,000 registration fee!
But some haven't bothered - Coca-Cola, Facebook and Twitter didn't apply, for example.
The first batch of new domain names will go live some time after March next year.