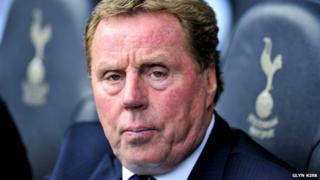 GLYN KIRK
Is Harry Redknapp leaving Spurs? That's the question on Tottenham's fans lips as rumours about his future at the club gather pace.
Redknapp only has a year left on his contract and was due to meet Spurs' chairman Daniel Levy to discuss an extension.
But the two men are believed to have fallen out about how open Redknapp was about wanting the England job earlier in the season, and Spurs' failure to make the Champions League.
He's strongly denied reports that he offered his resignation and told the BBC he wants to stay at White Hart Lane.
He told ESPN: "No, I haven't resigned and I have no idea why it's being suggested I have.
"This is an outrage - an absolute liberty for people to be putting around this kind of rumour on the internet."
"It is not true, there is not a chance I will resign. Why should I? I have a year left on my contract."
Chelsea's Champions League triumph meant that, despite finishing fourth, Spurs missed out on the final place in next season's competition and the added revenue that goes with it.
Redknapp's team won just four of their final 13 Premier League matches, with a 5-2 defeat by Arsenal on 26 February the catalyst. Spurs had led 2-0 and victory would have opened up a 13-point gap over the Gunners, who pipped them to third place on the final day of the season.
The manager, who guided the club into the Champions League for the first time in 2010, said: "The simple situation is I've got a year left on my contract. It's up to Tottenham whether they want to extend that contract or not.
"If they don't extend it and I go into my last year, it's not an easy one when players know you've only got a year left.
"It's not a case of me looking for security. What it's about is players knowing you've only got one year left on your contract and knowing that it doesn't work, basically.
"I think it's a situation of 'well, he might not be here next year'. You don't let players run into the last year of their contract if you think they're any good and you don't let managers run into the last year of their contract if you think they're any good.
"It's up to Tottenham. If they think I'm OK and I've done a decent job and deserve an extension, they'll give it to me."