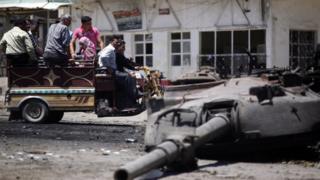 AP
Syria is now officially in a state of civil war, the United Nations head of peacekeeping Herve Ladsous has said.
Violence is continuing in the Middle Eastern country, but both sides there have denied it is a full scale civil war.
The Syrian government argues that it's battling with terror groups, while the rebels say they're taking part in a peaceful uprising.
Civil war is defined as a fight between two groups within the same country resulting in more than 1,000 deaths.
Mr Ladsous said: "Clearly what is happening is that the government of Syria lost some large chunks of territory, several cities to the opposition, and wants to retake control."
Monitors from the UN have been in Syria to try and push through a peace plan.
They said they were fired at and stopped from reaching a town called Haffa. They turned back after deciding it was too unsafe.
On Wednesday, activists said at least five people were killed by government bombing. They claim that at least 60 people were killed across the country on Tuesday.
The conflict in Syria has been going on since March 2011, when protests against President Bashar al-Assad's government kicked off.