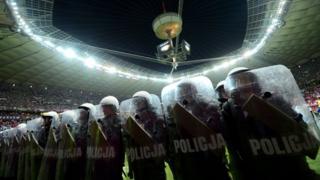 Allsport/getty images
Poland and Russia's Euro 2012 group game was overshadowed by trouble between fans on Tuesday.
Violence broke out before the game during a march to mark Russia's national day.
Tear gas, rubber bullets and water cannon were used to break up fans at the end of the march.
Polish police said that 184 people were arrested and 11 were hurt. Around 6,000 officers were on duty to keep things calm.
The match ended in a 1-all draw.
The two countries have a difficult history. Russia ruled over Poland for more than 100 years and the Soviet Union dominated the country after World War II.