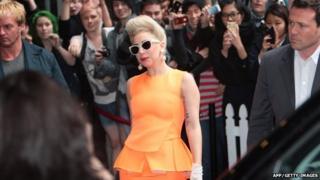 AFP/getty images
Lady Gaga is used to getting a big hit - but perhaps not one from a giant pole!
The singer was accidentally struck on the head during a concert in Auckland, New Zealand, on Sunday.
It happened during a performance of Judas, when one of her dancers was removing a pole from the stage. But amazingly Gaga managed to carry on with the show!
Gaga tweeted on Tuesday: "Thank you so much for all the thoughtful messages."
"I feel a bit woozy but a little better everyday."
Her make-up artist Tara Savelo wrote on Sunday: "Gaga has a concussion but she is going to be okay."
"She wants you to know she loves you. I'm taking care of her. Can't believe she finished the show."