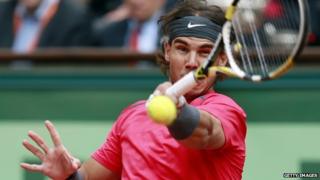 Getty Images
Rafael Nadal has won a record-breaking seventh French Open title after beating world number one Novak Djokovic in four sets.
Djokovic double-faulted on the last point of the final to hand Nadal the victory 6-4 6-3 2-6 7-5.
The match had to be played over two days because of rain delays.
The Spaniard has now won 11 Grand Slam titles.
Only three men have more titles - Roger Federer with 16, Pete Sampras on 14 and Roy Emerson on 12.