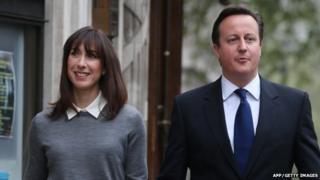 AFP/getty images
Even being prime minister can't stop you from making a mistake every parent dreads - leaving your child behind.
It's been revealed that David Cameron and his wife Samantha left their daughter Nancy in a pub after having Sunday lunch.
Downing Street said the couple were "distraught" when they realised eight-year-old Nancy wasn't with them.
They realised the mistake when they got back to their nearby country home and Mr Cameron returned to collect her.
The incident happened two months ago. The pair left the Plough Inn in Cadsden, Buckinghamshire, in separate cars - and both thought the other had Nancy.
The Camerons had been out with their three kids and two other families.
It's thought Nancy was in the pub without her parents for about 15 minutes, but she kept herself busy by helping out the staff!
Has it happened to you?
We want to know if you've ever been accidentally left somewhere by your parents.
What happened? Did you keep yourself busy like Nancy did by helping out the staff?
This comments page is now closed but here's what some of you said...
Your comments
"I was in Wales at the beach and I went to paddle in the sea with my mum and brother. Then my mum told me to go back to dad while she dried my brother. I couldn't find dad and was really worried. Luckily he found me in the end!"
Sian, Leicester, England
"I was once left in the zoo and my mum and dad had left without me. Half way home they had to come and get me- lol."
Lora, Scotland
"No, I have never been left anywhere by accident by a member of my family, but I think the Prime Minister should think a bit more as many of us look up to him as an influence."
Sioned, Bethesda, Wales
"I may have wondered off somewhere when my mom was shopping but she has never left me or my dad. I think its terrible that David Cameron forgot his own daughter!
Niamh, Birmingham, England
"I was in Morrisons once when I was about nine and I'd gone to look at this really yummy food and left my mum behind. When I realised I started crying but an old lady picked me up and took me to a till where they announced it on the intercom. My mum came straight away and gave me a massive hug."
Jessica, Kent, England
"Once when I was about 8 years old my mum and I were in a bookstore on the top floor and she left the store when I was looking at books. When I realised she had gone I was really worried. Luckily she came back for me!"
Imaan, London, England
"I have never been left anywhere by accident but I think he should have held her hand to be safer."
Sarah, Manchester, England
"No I have never been left anywhere on my own but if I did I would let the staff of the place know and they would help to do something about it."
Lottie, Inverness, Scotland
"I feel sorry for David Cameron because my parents left me in Ikea once, but they soon realised and came straight for me. I mean, anybody could do it."
Shauna, Dublin, Ireland
"Yes, I once got lost in Toys 'R' Us when I was about four. My brother also got lost following someone he thought was in my family!"
Emanuel, Wales
"I have never been left alone, but I have always been scared that it will happen to me."
Sana, London, England
"Once, me and my mum got lost in Sports Direct! We spent ages looking for my dad, brother and sister. In the end we just waited outside the shop for the rest of my family to show up."
Ishika, East Sussex, England
"When I was five I got lost in the supermarket. I didn't even notice I was lost. I was to busy looking for sweets."
Shmsa and Noor, Bletchley, England
"I was shopping with my mum and my dad was in the car. My mum paid and then she left and I got lost inside Tesco."
Cindy, England
"Once my family left my sister at a carnival for at least an hour. She didn't even notice."
Archie, Leicestershire, England
"My mum once locked me in the car by accident while she went into the supermarket. She got into a big panic and thought I had run away from her somewhere in the shop! She even nearly made an announcement over the intercom to find me!"
Zara, Devon, England
"We went to town on my birthday. I was seven years of age. I was wondering around and later found myself lost but eventually found my parents. I was not worried. I also kept myself occupied just like Nancy."
Nabilah, Derby, England
"My parents left me in the toilets."
Emma, London, England
"It has happened to me once. It was our parents meeting and my mum forgot me and went outside school. I made myself busy by helping the teachers out."
Tanha, London, England
"Well one day all my family were going out for the day and when we were getting ready I decided to go to the toilet, but when I came back down everyone had gone. So my family turned round and when they came back I had drawn a picture for them."
Kaytlin, Oldham, England
"Once my mum left me in Ikea on my own... she thought I was with my dad getting my baby brothers from the play area. I started to cry... and then a member of staff heard me crying and put a message out for "The parents of Nia to come and get her from reception". My mum was in tears when she came and got me, she was so worried."
Nia, Wales
"No, I have never been left anywhere by accident. I feel really sorry for David Cameron because it's bad enough for him that he left his daughter somewhere but now the whole country is going to know."
Sinead, Isle of Man
"She left me in B&Q one time and I thought she abandoned me."
Cerys, Rothwell, England
"I remember when we went to Bristol Zoo and we left my baby brother behind in the penguin enclosure. It was so scary, but he was completely oblivious!"
Joanne, Monmouthshire, Wales
If you send us a comment, it may be published on the Newsround website, and some comments may be used in our TV bulletins. We'll use your first name and your home town to show that it's your comment; your personal details won't be used for anything else.