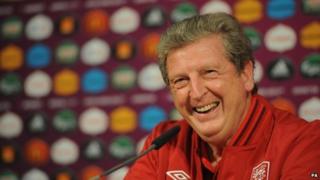 PA
England manager Roy Hodgson says his team faces a "stern challenge" against France in their opening group game.
But the boss believes his side can snatch victory over the French, who are unbeaten in their last 21 games.
He said: "We have full respect for the French team... [but] the players are more than confident of their own abilities."
The match kicks off in Donetsk in Ukraine on Monday at 5pm UK time.
Painful memories
The last time England played France in a competitive match was in their Euro 2004 opener and it was a terrible night!
They were leading 1-0 with just minutes to go, but two injury time goals from Zinedine Zidane won it for France.
There are worries about the temperatures in Donetsk, which are set to hit a scorching 32 degrees Celsius.
But Hodgson said: "We'll deal with the heat as best we can. It does get hot in England from time to time. The heat is a factor for all the teams playing in the Ukraine."