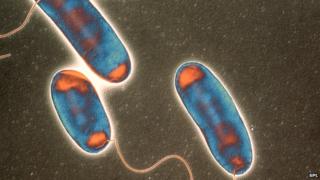 SPL
Health experts in Edinburgh think that the number of new cases of Legionnaires' disease should start to drop.
So far there have been 61 suspected and confirmed cases of the illness and one man has died.
Four sites around the city have been disinfected to try to kill the bacteria but experts still aren't sure what the source of the outbreak is.
After the weekend they hope to know for certain if the treatments have worked.
How do people get the disease?
Scientists think this outbreak has been caused by water around industrial cooling towers near Edinburgh and say the risk to the public is low.
Legionnaires' disease comes from Legionella bacteria which grows in non-flowing and normally bad smelling water.
The bacteria sometimes - but not often - ends up in water cooling towers or air conditioning machines.
If people breathe in the water droplets which contain the bacteria, they may get headaches, muscle pain, fever, coughs, or have an upset stomach.
But the disease can't be caught from drinking water, or from person to person. It can be treated with antibiotics.