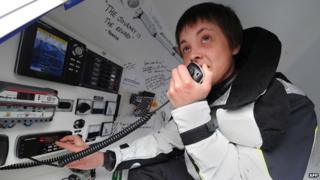 AFP
British adventurer Sarah Outen has been rescued after getting caught in a storm in the Pacific ocean.
She'd been trying to be the first woman to row alone from Japan to Canada.
The 26-year-old had been rowing for 24 days when the storm hit and her boat rolled over and was damaged.
She was rescued by the Japanese coastguards on Friday morning but had to leave her boat Gulliver in the ocean.
The row was just one part of an epic 20,000-mile around-the-world solo expedition that Sarah started earlier this year.
She said "Gulliver took a real beating at the hands of the tropical storm... These are the roughest and most frightening conditions I have ever been in."
She's not the only one who's been caught up in tropical storm Mawar, another British adventurer Charlie Mitchell also had to put out a rescue call.
We spoke to Sarah before she set off on her journey, check out her video below.